March Message from Adama
 Channeled by Denise Laberge
Telos Worldwide Foundation
Montreal, Canada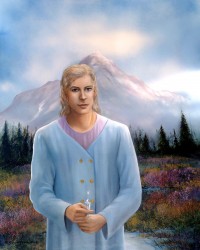 I Am Adama, your brother forever
The month of March means the arrival of spring. This new cycle starts with an explosion of nature all around you. The birds sings, the trees adorn themselves with their beautiful green foliage; life manifests itself with its colors, its light, its softness after the long winter. It is a rebirth.
Dear children of the Light, know that this cycle does not exist only outside of you. Everything is connected and you are an integral part of this rebirth. This year, associate yourself with this great movement surrounding you. See yourself as a plant or a tree awakening with this life energy. Every morning, during this resurrection period, take the time to feel the spring energy flowing into your feet, your chakras, your skin, in all that you are. Feel that this intelligent energy is nourishing you from within. Feel that the divinity in you perceives and welcomes this energy. You do not know the project details but for the first time in your multiple lives, you choose to take advantage of the intelligence and wisdom of the Great Life. You choose to trust it and finally let it support your awakening.
You are not separated from the great resurrection movement of nature, my dear children. Until now, you have always been satisfied to admire the power and the strength of nature around you. Today I invite you to see and feel that you are part of this movement. You're not separated from it. You can associate yourself with that power and use it for your own transformation.
I invite you to think, believe and feel that everything is interconnected, that this very powerful nature is at your service just as it is at the service of all living beings in this dimension. Say yes to the reunion of the hearts, of your heart with the great life movement. Stop seeing nature as a space outside yourself from which you are separated. You are the nature, you are part of it. I invite you to accept this concept and finally enjoy the magic and the love from this nature.
Nature invites you, in fact she implores you, with love and infinite tenderness, to welcome her in your hearts, in your life. United in this movement, everything becomes possible for you.
I Am Adama, conscious of the eternal spring
– See more at: http://www.telosinfo.org/site/index.php?menu=22#sthash.YjF25b78.dpuf